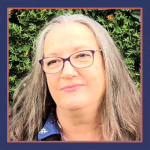 A little about me
I have spent almost 60 years battling chronic illness, the treatment for which, in addition to keeping me alive (for which I'm grateful), created further health problems. Out of desperation, in the face of rapidly deteriorating health, I have experimented with making lifestyle and dietary changes. Some experiments have worked spectacularly well, and others have left me with further health issues that need resolving.
When I was initially referred to a rheumatologist at the hospital, my condition was so poor that I was admitted as an inpatient and my doctor admitted to me that he thought it unlikely that I'd ever recover enough work again. To be fair no one did want to employ me once I was diagnosed with Rheumatoid Arthritis, although I don't think that's what the doctor had in mind when he said that. Anyway, prejudice forced me to find an alternative way of earning a living, and I now own my own company, co-owning and directing it with my husband. A former rheumatologist also said that I would be in a wheelchair permanently at some point (so far, still walking), and a different rheumatologist said that I wouldn't live long enough to retire (that gives me three years before I pop my clogs!), hopefully, he was wrong about that! And, I've been told repeatedly that I was imminently due to have a stroke. This last comment was made on numerous occasions by different doctors. Once I was even asked to lie down perfectly still for fear that I was going to have a stroke right there and then in the hospital outpatient department.
Par for the course with my illnesses, is that you get sicker and die. After witnessing my recovery from asthma and improvements to the RA, my GP, shortly before his retirement said that he'd never seen anyone like me get well before in his entire medical career. I want to up the game-play and set a new par. I have already stopped Asthma in its tracks – 54 years of it, with too much of my childhood spent in hospital, fighting for my life. I have been Asthma free for more than five years now, and off all drugs for it for about four. I am also now officially in remission as far as my Rheumatoid Arthritis is concerned, with a DAS28 score of 2.16. I have stopped the NSAID (non-steroidal anti-inflammatory drug), and one of the DMARDs (disease modifying anti-rheumatic drugs) and I'm holding on to the remission with a small weekly dose of Methotrexate, a plant-based diet and fasting. The plant-based diet also sorted my Asthma, and this happened quite by accident. I intended to use the diet to ease the pain of the RA and to tide me over a period where I wouldn't have access to my NSAID, as the factory that made it was out of action for a few months, and then I noticed I no longer had asthma attacks. I also felt better than I'd done in a long time, so I carried on with the diet and never needed the NSAID again. I've not had any Asthma attacks since going plant-based, not even when I had a heavy cold that went to my chest and gave me a hacking cough. I've never been so pleased to have a heavy cold, the sheer novelty of not having to fight for every breath, not feeling like a plastic bag had been taped down over my head with only a pinhole to breathe through, was sheer joy. I can't believe how the rest of you moan about having heavy colds; you've no idea just how good you've got it!
My mission
I want to see nutrition, fasting, lifestyle changes and education on the front-line of medicine in the UK. I believe the NHS is uniquely positioned to lead the world in this as there is a financial and humanitarian incentive to reduce demand on the healthcare system, by involving patients in their own recovery, with diet and lifestyle changes. Without this reduction in demand, we risk losing the NHS as we know it today. In other countries, where private healthcare is the norm, there is a financial incentive to keep patients dependent on medication, so I don't believe reform will ever be led by those countries. If we can make the changes necessary in the UK and prove it works, cutting costs while improving patient health and quality of life, then I think there will be so much public demand for change in other countries, that they will have to follow suit.

Most of the infrastructure for including education of patients in treatment protocols is already in place. The NHS has a National Learning Management System which handles e-learning for medical staff in the UK. I know this because my company has been involved in the project management of its implementation and the production of some of the e-learning hosted on it. It would be easy enough to add additional courses for patients, which could then be delivered to relevant patients through their dashboard in the patient access portal, which patients already use to book appointments and order repeat prescriptions online. If adding patient education and access to the existing NLMS is considered too costly an option, then open source solutions, such as Moodle are a cheaper alternative for achieving the same end.

When you get diagnosed with diabetes in the UK, you suddenly get a flurry of regular appointments; eye checks, foot checks, blood tests, visits to the diabetes nurse, visits to a dietitian, and sometimes appointments with an endocrinologist. How hard would it be to add an e-learning course into the mix, for the patient to learn how to handle their diabetes and recover their health? The same goes for other chronic illnesses.

Of course, if patients are going to be educated about diet and lifestyle changes, then doctors and other relevant medical staff should be too. Medical schools do not teach future doctors about nutrition and fasting, and what is promoted as good nutrition generally within the NHS, is years out of date and not in line with what we now know to be true from more recent research. This needs addressing urgently.