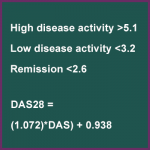 The DAS 28 mathematical model
My rheumatologist used the DAS28 mathematical model to assess the level of disease activity in my body. The data used for the model consisted of assessing the number of swollen joints, the number of tender joints, ESR and CRP levels, and feedback from me about where I would score on a level of well-being (pain, stiffness etc) between very good and very bad. A high score of 5.1 or greater will qualify you for treatment with an anti-tumour necrosis factor therapy in the UK. A score of less than 3.2 is considered to indicate low disease activity and a score of less than 2.6 indicates the disease is in remission. My score was 2.16, so well inside the remission range. You can read more about the DAS28 score here:
https://www.nras.org.uk/the-das28-score

5 years plant-based
Since adopting a plant-based diet 5 years ago my CRP levels have at times fallen into the completely normal range, which considering I never achieved a normal CRP reading while on 2 DMARDs and an anti-inflammatory over more than 2 decades, is incredible. During the time I was on 2 DMARDS and an anti-inflammatory my CRP was most often in the high teens or low 20s. The normal range is below 10.
Remission
I did get into remission once back in my early 30s, with the use of drugs. I was so well that I asked my rheumatologist to cut the dose of the DMARD I was on at the time, 3 grams of Sulfasalazine. The dose was cut back too much (to 1 gram) and I went into a massive flare. I had to return to the high dose of Sulfasalazine, plus start on Methotrexate as well before I got any real improvement. I never got back to how well I'd been before the cut in medication though and it took two years to get the flare under control, during which time I needed to wear splints on my wrists. At the end of the flare, I was left with fused and immobile wrist joints. To this day I have difficulty writing, playing musical instruments, racket sports and doing some other tasks because of the damage to my wrists from that flare. If I'd known then what I know now I could have got the flare under control in 7 days and not suffered long-term damage. Medically supervised fasting followed by a plant-based diet for those in extreme flares would be a more effective, faster, less damaging and cost-efficient way for the NHS to treat RA patients. This could be managed at the patients own GP surgery if they have phlebotomy services there. I hope I will see that become a reality.
Backed by science
Fasting followed by a plant-based diet for RA patients is backed by a scientific study published in the Lancet, demonstrating a reduction in CRP and ESR levels, and improvement in pain scores and numbers of sore joints after a 7 to 10 day fast, the benefits of which were still present a year later. You can read the abstract here: https://doi.org/10.1016/0140-6736(91)91770-U In my opinion, hanging onto the remission after fasting depends on finding the right diet and maintaining a daily time-restricted eating and intermittent fasting regimen. My experience of drinking milk and eating a slice of dry toast after obtaining remission with a fast was that extreme pain and disability set in within 30 minutes of breaking the fast. Nowadays I like to break my long fasts with steamed broccoli, which tastes out of this world when you've not eaten for 7 days and does not cause me any pain. Fasting and a plant-based diet work for me, you can try this yourself and see if it helps you. Freedom from pain might just be a week away. I have seen another study that claims to contradict the study in the Lancet, but they only fasted patients for 3 to 5 days on 3 separate occasions. That will not work, you need at least 5 consecutive days before the results start to appear, and if you're in a severe flare it could well take longer than that. With my last severe flare, I did a 7-day water fast, after which time the pain had subsided. but I was still feeling unwell, so after a 2-day break, I followed that with a 5 day fast, after which time I felt completely fantastic. If you try it, then exercise caution in reintroducing foods, as the wrong foods (in my case animal products) will take you straight back into extreme pain and you will lose all the benefits you gained from the fast.
My next challenge
I am not as well as I was in that first remission back in my 30s, but that is due to other conditions I have developed as a result of stress, the effects of inflammation from the RA and diabetes I developed, partly from following the wrong diet guru. With more dietary changes I have also been able to reverse conditions related to diabetes and get my blood sugar under control. I plan to reverse diabetes completely and I'll cover that in the next post.